Last night I went with my daughter to the "BlockBuster" THE LEGO MOVIE.
I was going to go with her to the Father Daughter dance our church puts on every year, but the roads were getting icey and the church is across town. So we opted to go to the Alamo Drafthouse next to our house have dinner and a movie. We She was not disappointed.
I'll try my best not to spoil anything for those of you wanting to see it.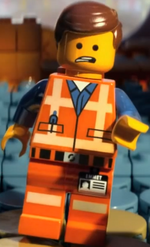 The original 3D computer animated story follows Emmet, an ordinary, rules-following,
perfectly average LEGO minifigure who is mistakenly identified as the most extraordinary person and the key to saving the world. He is drafted into a fellowship of strangers on an epic quest to stop an evil tyrant, a journey for which Emmet is hopelessly and hilariously underprepared.
Chris Pratt ("Moneyball") stars as the voice of Emmet. Will Ferrell ("The Campaign") stars as the voice of his primary adversary, President Business, an uptight CEO who has a hard time balancing world domination with micro-managing his own life; while Liam Neeson ("Taken" and "Taken 2," Oscar nominee for "Schindler's List") voices the president's powerful henchman, known as Bad Cop/Good Cop, who will stop at nothing to catch Emmet.
Starring as Emmet's fellow travelers are Oscar® winner Morgan Freeman ("Million Dollar Baby"), as Vitruvius, an old mystic; Elizabeth Banks ("The Hunger Games," Emmy nominee for "30 Rock"), as tough-as-nails Wyldstyle, who mistakes Emmet for the savior of the world and guides him on his quest; Will Arnett (Emmy nominee, "30 Rock"), as the mysterious Batman, a LEGO minifigure with whom Wyldstyle shares a history; Nick Offerman (NBC's "Parks and Recreation") as a craggy, swaggering pirate obsessed with revenge on President Business; Alison Brie (NBC's "Community") as a sweet, loveable member of the team, with a powerful secret, and Charlie Day as the spaceman Benny.
Via lego.wikia.com
The movie has had several clips out lately. With most movies when you go to the theater you think that all the best part have been put out and you are not going to get any substance. That is not the case with The LEGO Movie. You get the clips with different dialogue, or switched with something else that you have seen. There are plenty of surprises, and emotion for the movie to keep going. I actually found myself laughing at the "sad" parts, just because the supporting Actors (LEGO Figures) always had quirky expressions or sayings.
It comes as no surprise that this being a WB movie they would indoctrinate you with the DC LEGO's.
Batman steals the scenes he is in.
The above pic is him in a colourful happy place, similar to a My Little Ponies, and CareBears Land. He only likes things that are dark and black, so naturally he is aggravated at having to be in this place.
Superman, Wonderwoman, Greenlantern all have cameos. The Flash is shown but only briefly.
Several other cameos:
Shaquille Oneal
William Shakespeare
This will be one of those movies that you have to watch a few times to catch all the little details.
The actors did an excellent job making everything tie up with the amazing graphics. Sometimes they would include strings holding things up that you could see on purpose, to add to the campy and funny feel of the movie.
Out of all the actors in the movie I felt Will Ferrell did an outstanding job. He is the protagonist that our heros need to defeat. Not only did he nail the evilness of Lord Business down, but let his comedic side shine when it needed to. The Movie has a lesson for the Adults as well as the kids, and it is Ferrell that brings this aspect to Life.
"Behind the Bricks" You have to watch this it is too funny!
Do you plan on seeing this?
If you have what did you think?